ON SALE NOW! While stocks last!
Discharge : Legends of Punk – vol.1 from LostDataProductionsLive! on Vimeo.
Out NOW! Only from: ldpshop.bigcartel.com
A new limited edition 2-disc (DVD + BluRay) release, documenting one of the most influential bands in British Punk Rock history! Featuring exclusive Interviews & Live Footage – filmed in full HD – multiple stages, multi-angle – from gigs at 3 of the UK's favourite underground venues – following the band from 2015-2019! With every order you'll receive 2 discs (DVD + BluRay), packaged with an exclusive poster, 6 hi-res picture postcards and a pack of 10 stickers! * Subtitles in Chinese (simp+trad), French, German, Greek, Italian, Polish, Portuguese, Russian and Spanish. Duration: Approx. 90 mins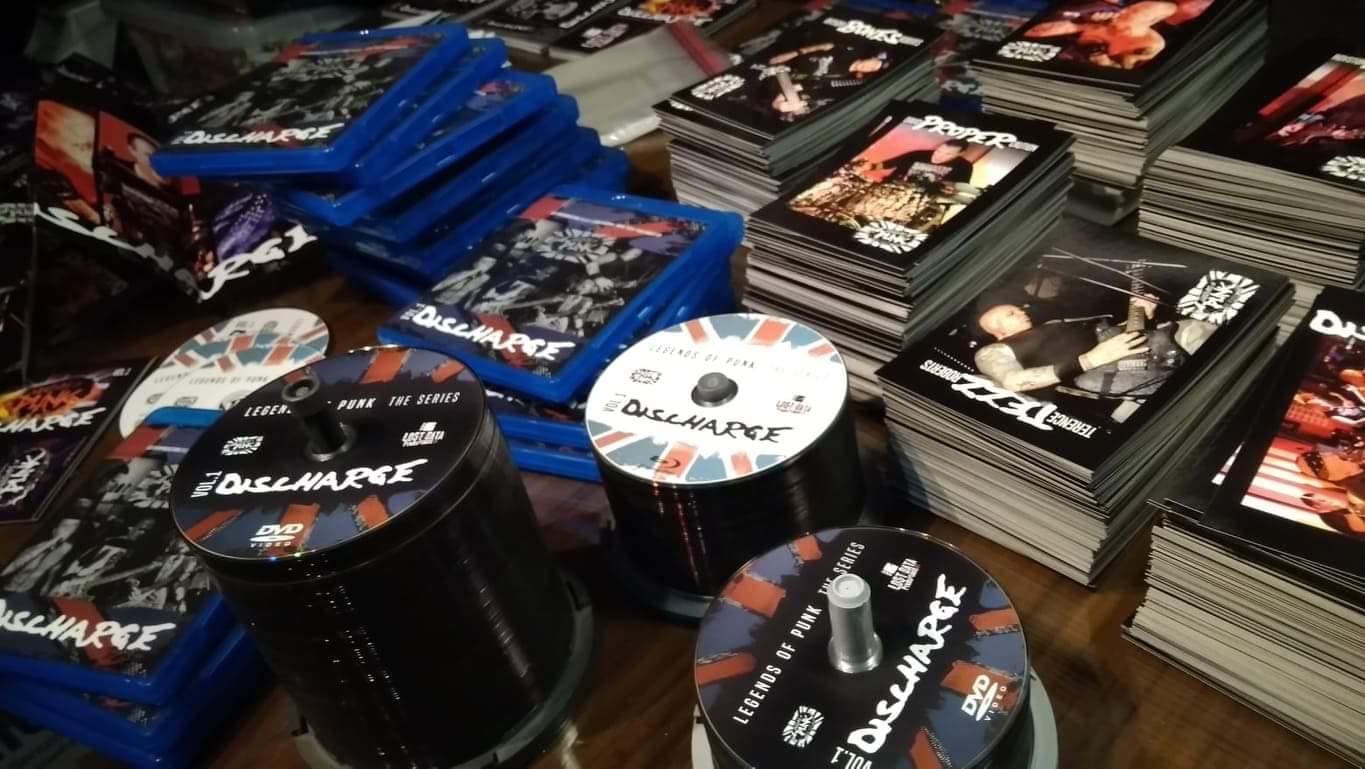 About Legends of Punk LOP is a new series of collectable box-sets featuring the cream of the British Punk Rock underground. Packed with live performances, interviews and fly-on-the-wall footage documenting the very best of some of the most loved, yet often overlooked bands in Punk Rock history. The first volume in the Legends of Punk series, documents one of the most influential British punk bands in history. Cited as a major influence by heavy-weights in punk, metal and beyond… the one and only DISCHARGE! Like a punch in the face, an aural assault on the senses, Discharge erupted onto the scene in the late 70s/early 80s with their politically-charged lyrics and signature brutal, aggressive hardcore punk sound, carving their place in history as one of the definitive hardcore bands of all time, moulding the punk scene and handing the baton on to successive generations. And the legend continues… in the wake of their mayhem, they laid the foundations for generations of fans and bands, many indebted not only for their integral contribution to punk and hardcore with their refreshingly heavy sound, but also for the introduction of their signature, eponymous d-beat, which was to become a fundamental in the evolution of hardcore punk, thrash, d-beat/discore, crust, and more! Fast forward to 2015-2019 fronted by JJ and joined by Rainy, Tezz, Bones and Proper, Legends of Punk vol. 1 features live footage and exclusive interviews, following Discharge to 3 of the UK's favourite underground venues (London's: T-Chances, 100 Club, and the Bristol Exchange), LOP vol. 1 features footage from multiple stages/venues, in multi-angle and full HD format on both BluRay and DVD, and comes packed with exclusive extras incl. poster, HD picture postcards and stickers. Very, very limited edition release!
About LostDataProductions LostDataProductions is a not-for-profit DIY collective, promoting underground/DIY/punk bands through high quality video production, live footage, interviews, live streaming, music videos… Available for pre-order now!
Also check out more of our collaborations and videos / co-productions (in the menu above) featuring bands like:
the Exploited
,
Municipal Waste
,
the Casualties
,
Flag
,
Doom
,
Sheer Terror
,
the Restarts
,
Sick on the Bus
,
the Fiend
,
the Vile
,
Rash Decision
,
Grand Collapse
….
(not to mention the forthcoming resurrection and release of "StreetPunk the Series" – (based on Stuart Newman's viral doc, StreetPunk The Movie – IMDB))