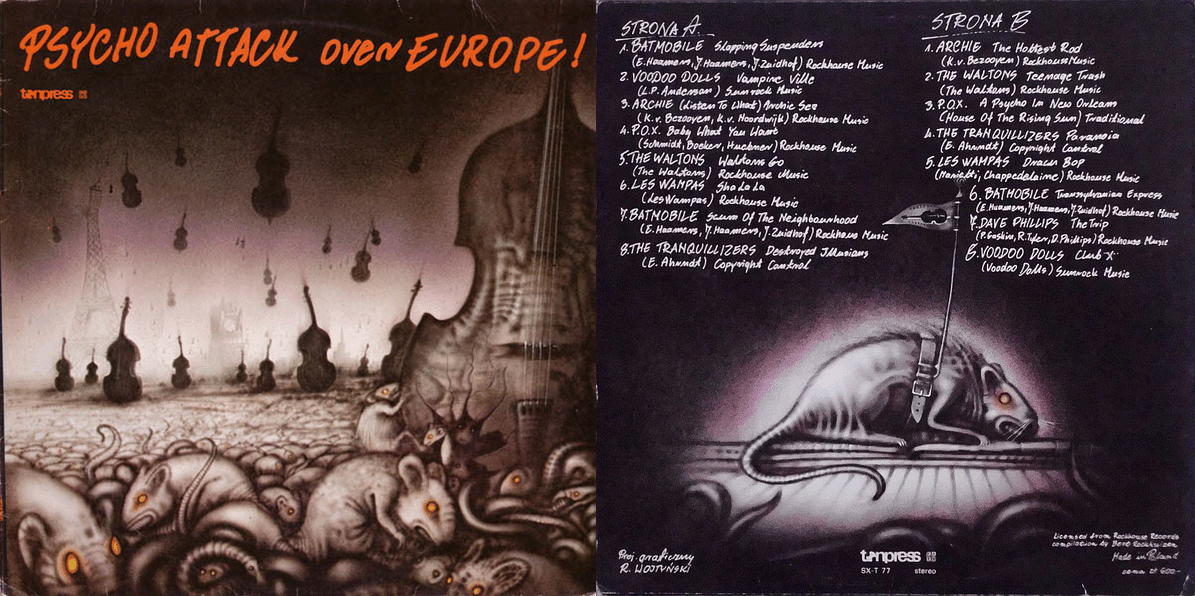 After my first visit to the Boston Arms, I returned a week later for my first New Year's Eve in London. I knew it had to be special, and indeed, it was unforgettable for several reasons. First, I got to spend this special time with my sister and her husband, and it was our first rock and roll concert together. Second,  I finally met the psychobilly crew from London that I had been waiting to meet for decades, and they did not disappoint!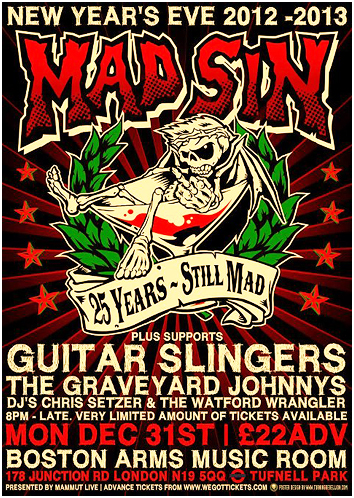 I developed a passion for Psychobilly back in the late 80s when I stumbled upon the "Psycho Attack Over Europe!" LP compilation from 1987. Ever since, I've been a fan of this genre, thanks to my old friend Kerniak who introduced me to classic bands like The Meteors, Demented Are Go, and Guana Batz. Even though I've only attended a few concerts of Western bands playing this genre in Poland, such as Rezurex or Mad Sin, they were always incredible experiences.
Graveyard Johnnys, a Welsh band that blends psychobilly, rockabilly, heavy metal, and dirty rock with skill, is a perfect example of a group that refuses to be confined by genre boundaries. Their drummer with dreadlocks is a clear indication that they don't adhere to traditional psychobilly conventions. During their performance, they put on an energetic and noisy show that got the entire crowd excited. I was no exception – their heavy riffs and infectious energy kept me on my feet from start to finish.
The Guitar Slingers truly lived up to their name, delivering a psychobilly performance with hints of country and fast punk-rock that was absolutely delectable. Phillip "Doyley" Doyle, a kind Irishman who has contributed greatly to the Psychobilly scene, played a crucial role in rallying a legion of fans from all over the UK to this movement. They play together, support each other, and release albums throughout Europe. In the future, I even had the privilege of collaborating with him on several music videos. He's a legend in my eyes, and I will always have a special place in my heart for him. I'll forever refer to him as "The Boss"!
Finally, Mad Sin, a German band known for their unique blend of psychobilly and  punk rock,  gave an unforgettable concert. Kofte deVille's explosive vocals led the band in unleashing a raw, unbridled energy that got the crowd dancing. The band's unflagging energy and enthusiasm kept the audience engaged throughout the performance, with each member giving their all, including fireworks. As the concert came to an end, the audience was left excited, sweating, and exhausted from the sheer intensity of the show. It was an indescribable experience that had to be seen to be believed. If you ever get the chance to see Mad Sin live, don't miss it!"
Cheers&Beers,
T.