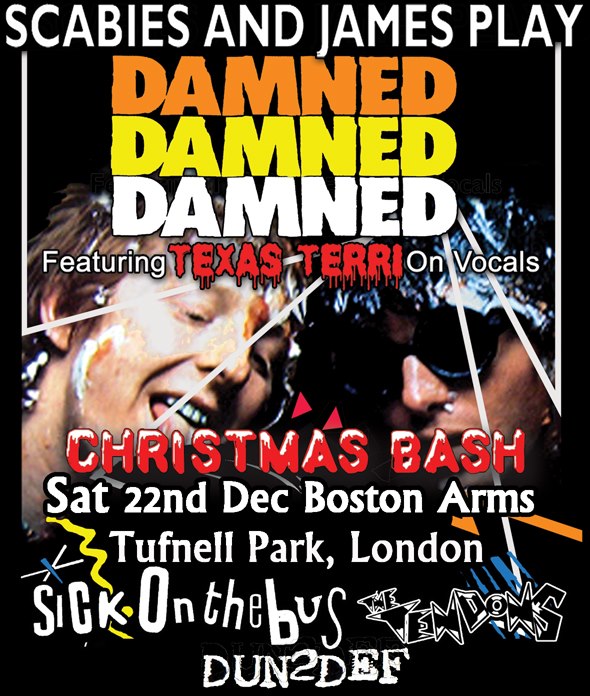 That was the day I paid a visit to the Boston Arms in North London for the first time. It was also my initial punk "Christmas" bash :))
The Boston Arms is a place of its own legend, where numerous excellent bands performed and I spent many evenings there, and it was always awesome. The sound, the staff and the bands were all great! You could say that the Boston Arms is the first place where you can use the word Professionalism 🙂 It was distinct from The Grosvenor, due to the different style of entrance, as the tickets are more expensive, but you understand that you get something for something.
Texas Terri, I have the feeling that I watched her with her own band in PL and she made an incredible impact on me, her energy, her style… but to see Texas Terri with members of The Damned Live is why I came here for!!! Their performance was simply sensational for me! You can view it for yourself in my video clip 😉
When I heard Sick On The Bus performing, my mouth dropped open, since I could never have imagined such a blend of Motorhead and G.B.H, even in my wildest dreams. They had so much energy, speed, and attitude on stage, which I later realized was their way of life, not just their performance style. They were punk rock through and through! I instantly fell in love with them and now I never miss a show. Interestingly, I didn't realize until afterward that SOTB included the majority of the members of Varukers.

Subscribe,Like,Share

https://youtu.be/8_bYpGzdl20https://youtu.be/K05JS2HgGsEThe Tendos and Dun2Def also put on amazing concerts that made me feel like I had never heard punk rock before. It was truly Do It Yourself or Die!
I'm so grateful for the experience!