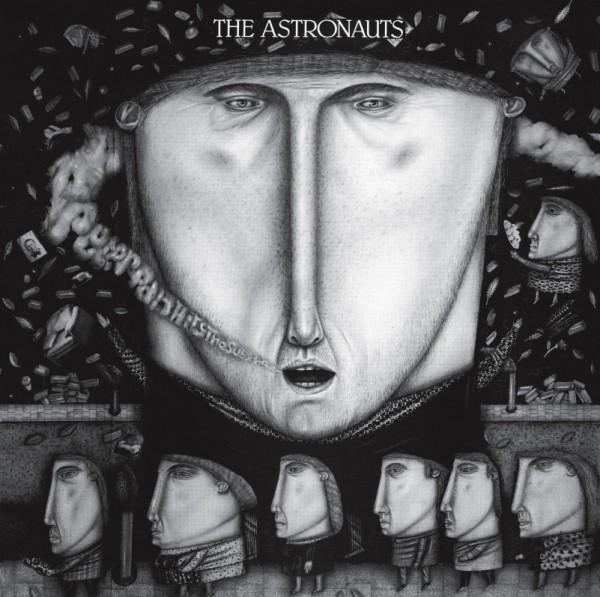 "The Astronauts were early touring partners of The Mob and Zounds from around 1979/1980(the infamous 'Weird Tales' tour), and mixed punk with folk and came up with of the most brilliant songs and lyrics ever created. Inspired by the punk explosion around 1977, Mark 'Astronaut' started the band that same year in his hometown of Welwyn Garden City…" – http://anarchoscene.blogspot.com/2011/07/astronauts.html
More about the Astronauts here: www.facebook.com/theastronautsband
BIO:
In the late 1970s, amidst the anarcho-punk scene of Britain, emerged a band that was decidedly "unpunk" in their music style, but managed to gain a loyal following in the underground scene with their political lyrics. The Astronauts, led by singer-songwriter Mark Wilkins, aka Mark Astronaut, have been around for over 40 years, and are still relatively unknown to many. But to those who have heard their music, the band's timeless tunes have left a lasting impression.
The band's debut album, Peter Pan Hits The Suburbs, released in 1981, brought together folk and psychedelic influences in hard-hitting anthems such as Protest Song and Baby Sings Folk Songs. The album received critical acclaim and helped the band gain a cult following, especially in Greece where it has been re-released several times. The album featured Nik Turner of Hawkwind on saxophone, adding to its unique sound.
Two years later, The Astronauts released their second album, It's All Done By Mirrors, which further expanded the band's psychedelic sound. The album features jazz saxophonist Lol Coxhill, who became a long-time collaborator with the band, taking the psychedelic overtones to another dimension. Highlights of the album include Tim Nixon's violin on live favourite Seagull Mania and one of the best apocalypse-scenario love songs ever written, Typically English Day.
In the 1980s, the band released further albums, including Soon and The Seedy Side (both on All The Madmen records) and In Defence Of Compassion (on Acid Stings records), where they experimented with ambient house way ahead of the curve. The band self-released two albums in the 1990s before Irregular Records put out You're All Weird at the end of the decade, revealing Wilkins had lost none of his talent with songs such as It's Incredible and Bats In The Belfry.
Wilkins assembled a new band in the 2000s, The Otters, before returning as The Astronauts for last year's album, It's Got A Garden (on Grow Your Own Records). The band's tenth and final album, simply titled The Astronauts LP, will be released on Sunday 27th August, on what would have been Mark's 69th birthday. Wilkins passed away in 2020, leaving behind a legacy of music that has been described as "eternal long-haired losers who also have the best tunes" by punk fanzine Zero.
Despite their relatively unknown status, The Astronauts have left an indelible mark on the anarcho-punk scene of Britain, bringing together a unique blend of folk, psychedelic, and political lyrics that continue to resonate with fans. While the band may have never achieved the mainstream success of some of their peers, their music has stood the test of time, and their loyal following remains as dedicated as ever. The Astronauts may be eternal long-haired losers, but they are also one of the most underrated bands of their time.
sources: http://anarchoscene.blogspot.com/2011/07/astronauts.html
https://www.hitc.com/en-gb/2020/04/27/the-greatest-british-bands-youve-never-heard-of-the-astronauts/
https://www.facebook.com/theastronautsband/?locale=en_GB
https://theastronautsband.bandcamp.com/